Bounce House Moon Walk Rentals Northwest Arkansas NWA
For every party there should be a main attraction. We have many to choose from here at Affordable Inflatables of Northwest Arkansas NWA. Our rental options are both flexible and convenient. We provide the delievery and setup for most rentals at your option. Our party rental experts can assist you in your selection. Please browse around the website to see all the different options we offer. Of course if you prefer to just handle it over the phone we can still help. Our wesbite is fairly easy to use. To start simply select the date you are interested in booking, a time selector will come up where you select your party start time (try to pick a time about 30 minutes before your start time just to allow a little flexibility), then pick your desired ending time, if your time selection is over 6 hours the computer will automatically increase the rental cost. But, like I said, we are pretty flexible, if you need a little more time after your rental just let the driver know when he gets there to setup, most of the time we are happy to accomodate as long as there is not another rental right after yours. Next you'll see several catergories, click on one to see what's inside. There you'll be able to select from our inventory. Find the one you want click it and add to cart, then you can continue shopping if there is more that you would like to look into, or simply hit the checkout button. Here you'll be entering your customer contact information and billing address. Continue to the next page for the event rental info page, you enter your event information including location, special instructions, coupon code, and some things that I would like to know. Be sure to fill in all the spots that have a little Star next to them. Then you'll proceed to the payment page, where you can see your final balance and make a payment to lock it in. Some of our customers have to go through their billing departments for payment, in this case just select alternate payment type, click the check box and Submit, you should receive a confirmation email within minutes showing your order and details. We have been refining our rental process for years and so far this is the easiest and most convenient way we have seen possible. If you have suggestions or need help please don't hesitate to give us a call or send an email to:
rentals@moonbouncenwa.com
we will be glad to look into it.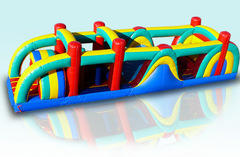 Bounce House and Moonwalk Rentals have never been easier in Northwest Arkansas NWA. We are pleased to be able to offer you such a wide variety and consistant rental experience. Take the hastle out of your party planning with our inflatable rental options. I personally know how much of a pain in the neck planning a party can be, well of course I'm in the business. This process is to help with the entertainment part of your party, so you can focus on the finer details. Prepping the party dish and drink selection is very time consuming, let us help with the setup of the big stuff.
Inflatable bounce houses have been around for many years, but they are getting more and more interesting. I have seen some that make an apartment building look small. We are proud to be able to add many different bounce and slide inflatable options to our site year after year in an effort to help you have a better selection for your event. Keep in mind we take your advise when you suggest an item we don't currently have. And if we do have something, but it is always booked out, then we will try to get another one similar to it soon. So many good ideas have come across my desk and I have been happy to go out and find them. If you haven't had the chance to see all of or our different bounce house and moonwalk rental options, please check them out now. www.moonbouncenwa.com
Moon Bounce rentals are so much fun for your little ones. I love it when the kids first lay eyes on the Big Bounce House all set up and ready in their front yard. Everytime I do a delivery it reminds of why I started this business here in Northwest Arkansas NWA. It's all about the laughter and happiness that eminates from your yard when the kids all begin bouncing and having a blast.
Our Water Slide rentals have been a big hit in Northwest Arkansas NWA. The weather is starting to get hot, the A/C systems have been kicking on and kids are all playing outside again. So happy to see them out of the house everyday. Water slides are a great way to keep the kids entertained and cool during the hot days of spring and summer. Water Slide Rentals are easy to book also, just click on the Slide catergory. Now keep in mind that Water Slides are more expensive to rent. "Why?" you ask. Because they are really freaking heavy and maintenance on them is a big pain. Did I mention, They ARE HEAVY!!!! Like Volkswagen heavy, then we go and fill them up with water and like lifting a volkswagen that's full of passengers. Anyway, I am off on a rant again and should probably go ahead and spell check this and post it. Hopefully I have used the main keywords enought to make an impact on the search engines when you search for Bounce House Rentals or Moonwalk Rentals or Party Rentals in Northwest Arkansas NWA and SW MO Areas. Of course we support most of the metro, I just want to make sure that I point out the main areas of demand. So to recap, if you are interested in a bounce house, moonwalk, inflatable party rental, or bithday party rental, please check us out. Just hit the HOME button from here to start making your reservation now.
Thanks again,
Judy
Inflatable Bounce House Dunk Tank party Rentals Delivery Joplin NWA biggest party rentals.
If renting more than one inflatable for your event, use coupon code PACKAGE2 during checkout!

Rainouts: Cancellations for weather can be made only in the 24 hours before your event for raincheck or refund. Cancellations for other reasons there is no refund of DEPOSIT amount. Once we´ve set up, we do not give refunds for any reason including weather. Please see the FAQ and Policies pages on our web site.