DUNK TANK RENTAL NWA
Do you remember the fun you had at the carnival when you threw that ball, hitting the target and seeing your teacher drop into the icey cold water? That was a good day. Bring that fun to your festival or party! Let your kids enjoy that thrill and excitement like you did so long ago. Or better yet, go again, hit that target and see your kid drop into the tank. Either way its a great time. A dunking booth is a excellent addition to birthdays, corporate parties, community Church events, and fund raising events. Looking for the perfect combination of equipment? Try this, grab a bounce house or combo inflatable rental, add a dunk tank and cotton candy machine! Your event will be the rave of the neighborhood for a long time. Every year your patrons will talking about how big it will be next year, everyone will be looking forward to seeing what kind of bounce house is coming and what kind of activities you will add. We are committed to helping you keep up with the expectations. We know the people demand FUN and in order to do that we constantly need to add more and more fun inflatables and activities for rental. So when you see that they are looking for something specific, give us a call and let us know. If we know you want it, we will try hard to add it to our inventory as soon as possible. We have doubled our inventory last year and hope to do so again this year.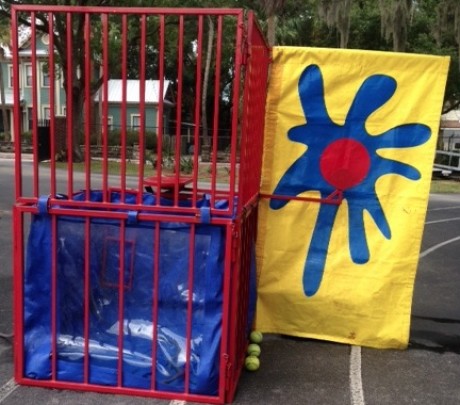 Available Dunk Tank Rentals In Bentonville and surrounding area of NWA.
Dunk tank for rent. It is lots of summer fun. On the hot days of summer, cool off a hot party with a Dunk Tank, We rent Dunk Tanks, Inflatables, Face painting, cotton Candy, All you need for a successful Party this summer or fall. Dunk Tanks are a great way to cool off and kids and adults love them. Kids love to get wet and adults love to cool off. Rent your Dunk Tank now for your next summer party. Cotton Candy and Snow cones are a must for a great party and kids and adults love them. Time to be a kid again, rent a Dunk tank from Us and have a blast getting wet and cooling off. Dunk tanks bring great humor and excitement to the party. The dunk tank brings awesomeness to any party & you would just enjoy having the chance to dunk your family & friends into the water. The anticipation you will have from waiting to be dunked or even being the lucky person that gets to dunk someone is out of this world. Dunk tanks keep the party alive and exciting. Nothing like coming to a party and seeing a dunk tank set up just waiting to be broke in. Dunk tanks will bring a lot of laughter & will probably be the main event of the party. Something about someone getting dunked or even being dunked for that matter is just so cool especially when it's on a hot summer day.
Great rental item for Bentonville, Rogers, Fayetteville, Springdale, and other towns in Arkansas. In southwest Missouri we service there too, like Joplin, Charthage, Noel area. If you don't see your town on the list, give us a call to confirm. Sometimes there is an extra travel charge that may apply. We will let you know if its not already listed.
Dunk Tank Party rentals are an awsome way to keep your party cool in the water. Lots of fun party rental options available for Joplin MO and surounding areas. We service the northwest Arkansas Area and into Missouri, Jane MO, Bentonville, Rogers, Fayetteville, Springdale, Noel, Tulsa and close surrounding areas. Get your Dunk Tank Party Rental today.
If renting more than one inflatable for your event, use coupon code PACKAGE2 during checkout!

Rainouts: Cancellations for weather can be made only in the 24 hours before your event for raincheck or refund. Cancellations for other reasons there is no refund of DEPOSIT amount. Once we´ve set up, we do not give refunds for any reason including weather. Please see the FAQ and Policies pages on our web site.